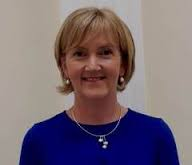 General information
Name: Celine
Surname: Marmion
E-mail: cmarmion@rcsi.ie
Cell phone number with international prefix: ++ 353 86 8059067
Country: Ireland
Affiliation: Royal College of Surgeons in Ireland
Gender: F ü M □
Year of the PhD title: 1994
Personal web page: http://pi.rcsi.ie/pi/cmarmion/
Previous COST participation: No □ Yes ü
List of 10 selected publications within last 5 years
1. Ude, Z.,  Romero-Canelón, I., Twamley, B.,  Fitzgerald Hughes, D.,   Sadler, P.J., Marmion, C.J., 'A Novel Dual-Functioning Ruthenium(II)-Arene Complex of an Anti-microbial Ciprofloxacin Derivative – Anti-proliferative and Anti-microbial Activity', J. Inorg. Biochem.,  2016, http://dx.doi.org/10.1016/j.jinorgbio.2016.02.018, in press
2. Parker, J.P., Ude, Z., Marmion, C.J., Exploiting Developments in Nanotechnology for the Preferential Delivery of Platinum-Based Anti-Cancer Agents to Tumours: Targeting Some of the Hallmarks of Cancer, Metallomics, 2016, 8 (1), 43-60 by invitation (Selected as a Hot Article by the Editor)
3. Parker, J.P., Devocelle, M. Marmion, C.J. 'Derivatisation of an Anti-Cancer Cationic Antimicrobial Peptide and its Complexation to Platinum(II)', Z. Anorg. Allg. Chem. 2013, 639, (8-9), 1628–1635, submission by invitation for a Special Issue "Bioinorganic Chemistry: From Fundamental Research to Applications"
4. Parker J.P., Nimir H., Griffith D.M., Duff B., Chubb A.J., Brennan M.P., Morgan M.P., Egan D.A.,Marmion C.J. 'A novel platinum complex of the histone deacetylase inhibitor belinostat: Rational design, development and in vitro cytotoxicity', J. Inorg. Biochem., 2013, 70-77
5. Brabec, V., Griffith, D. Kisova, A., Kostrhunova, H.,  Lenka, Z., Marmion, C.J., Kasparkova, J. 'Valuable Insight into the Anti-Cancer Activity of the Platinum-Histone Deacetylase Inhibitor Conjugate, cis-Pt(NH3)2malSAHA-2H)]',  Mol. Pharmaceutics, 2012, 9 (7), 1990–1999
6. Griffith D.M., Duff B., Suponitsky K.Y., Kavanagh K., Morgan M.P., Egan D., Marmion C.J. 'Novel trans-platinum complexes of the histone deacetylase inhibitor valproic acid; synthesis, in vitro cytotoxicity and mutagenicity'. J. Inorg. Biochem., 2011, 105, (6), 793-799
7. Griffith D.M., Szőcs B., Keogh T., Suponitsky K.Y., Farkas E., Buglyó P., Marmion C.J. 'Suberoylanilide hydroxamic acid, a potent histone deacetylase inhibitor; its X-ray crystal structure and solid state and solution studies of its Zn(II), Ni(II), Cu(II) and Fe(III) complexes', J. Inorg. Biochem., 2011, 22, 105, (6), 763-769
8. Griffith, D., Morgan, M.P., Marmion, C.J. 'A Novel Anti-Cancer Bifunctional Platinum Drug Candidate with Dual DNA Binding and Histone Deacetylase Inhibitory Activity', Chemical Communications, 2009, 44, 6735-6737. (Selected as a Hot Article by the Editor)
9.
10.
Main skills and expertise (up to 5)
1. Expertise in medicinal inorganic chemistry
2. Expertise in the synthesis and pharmacological evaluation of innovative, multi-functional metallodrug candidates as anti-cancer therapeutics
3.
4.
5.
Main equipment/facilities available in the participants' lab (up to 5)
1. Bruker Avance 400 NMR Spectrometer
2. Perkin Elmir Series 200 HPLC
3. Shimadzu LC-20-AT HPLC
4. Advion mass spectrometer
5. Applied Biosystems 433A Peptide Synthesizer
Short personal activity proposal for the COST Action CA15135 (max 1000 characters)
The focus of this Action is to 'speed up the discovery process of novel therapeutic agents against multiple targets' in a truly multi-disciplinary way. My research area is in the design and development of novel multi-functional metal-based chemotherapeutics as anti-cancer agents. In fact I, together with our Director of Innovation, are currently in advanced stages of negotiation with a pharmaceutical company around bringing drug technology developed within the Group to the next stage in the drug development process. This new Action affords me the opportunity to collaborate with organic chemists who are developing novel organic-based drug entities for therapeutic exploitation. In doing so, we can work together to combine their drug entities into a metal-drug framework (the focus of our research) with a view to developing novel drug candidates beyond those currently in use.

In addition, I wish to provide young researchers (PhDs) within my group and those of collaborators within the Action  the opportunity to conduct short term scientific missions to further their research as well as gaining invaluable research experience working in laboratories either here in RCSI or in laboratories abroad.
Work Group preference: score from 1 (preferred) to 4 (not preferred)
| | |
| --- | --- |
| Work Group of the CA15135 COST Action | Score |
| WG1: Development of new chemical entities | 1 |
| WG2: Selection of biological targets and assessment of biological data |   |
| WG3: Development of chemical databases |   |
| WG4: Development of Computational methods for multiple ligand design and discovery |   |