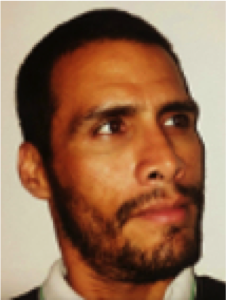 General information
Name: LUIS EMILIANO
Surname: PENA ALTAMIRA
E-mail: luis.penaaltamira3@unibo.it
Cell phone number with international prefix: +39 3498844420
Country: ITALY
Affiliation: UNIVERSITY OF BOLOGNA, DEPT. OF PHARMACY AND BIOTECHNOLOGY
Gender: F □ M X
Year of the PhD title: 2007
Personal web page: http:// www.linkedin.com/in/emilianopena
Previous COST participation: No X Yes □
List of 10 selected publications within last 5 years
1. CONTESTABILE A, PEÑA-ALTAMIRA E, VIRGILI M, MONTI B. Zinc supplementation in rats impairs memory consolidation and dampens post-traumatic recollection of stressful event. European Neuropsychopharmacology 2016 Jan 7. pii: S0924-977X(15)00431-9. doi: 10.1016/j.euroneuro.2015.12.041. [Epub ahead of print] PubMed PMID: 26774280.
2. PEÑA-ALTAMIRA E, PRATI F, MASSENZIO F, VIRGILI M, CONTESTABILE A, BOLOGNESI ML, MONTI B. Changing paradigm to target microglia in neurodegenerative diseases: from anti-inflammatory strategy to active immunomodulation. Expert Opin Ther Targets. 2015 Dec; 15:1-14. [Epub ahead of print] PubMed PMID: 26568363.
3. POLAZZI E, MENGONI I, PEÑA-ALTAMIRA E, MASSENZIO F, VIRGILI M, PETRALLA S, MONTI B. Neuronal Regulation of Neuroprotective Microglial Apolipoprotein E Secretion in Rat In Vitro Models of Brain Pathophysiology. J Neuropathol Exp Neurol. 2015 Aug; 74(8):818-34. Doi: 10.1097/NEN. 0000000000000222. PubMed PMID: 26185969.
4. NEPOMINOVA E, ULIASSI E, KORABECNY J, PEÑA-ALTAMIRA LE, SAMEZ S, PESARESI A, GARCIA GE, BARTOLINI M, ANDRISANO V, BERGAMINI C, FATO R, LAMBA D, ROBERTI M, KUCA K, MONTI B, BOLOGNESI ML. Multitarget drug design strategy: quinone-tacrine hybrids designed to block amyloid-beta aggregation and to exert anticholinesterase and antioxidant effects. J Med Chem. 2014 Sep 26. [Epub ahead of print] PubMed PMID: 25259726.
5. PENA-ALTAMIRA E, POLAZZI E, MORETTO E, LAURIOLA M, MONTI B. The transcription factor C/EBP β protects rat cerebellar granule neurons from apoptosis through its transcription activating isoforms. Eur J Neurosci. 2014 Jan;39(2):176-85. doi: 10.1111/ejn.12407. PubMed PMID: 24438488.
6. BOTTA A, MALENA A, TIBALDI E, ROCCHI L, LORO E, PENA E, CENCI L, AMBROSI E, BELLOCCHI MC, PAGANO MA, NOVELLI G, ROSSI G, MONACO HL, GIANAZZA E, PANTIC B, ROMEO V, MARIN O, BRUNATI AM, VERGANI L. MBNL142 and MBNL143 gene isoforms, overexpressed in DM1-patient muscle, encode for nuclear proteins interacting with Src family kinases. Cell Death Dis. 2013 Aug 15;4:e770. Doi: 10.1038/cddis.2013.291. PubMed PMID: 23949219; PubMed Central PMCID: PMC3763452.
7. PEÑA-ALTAMIRA LE, POLAZZI E, MONTI B. Histone post-translational modifications in Huntington's and Parkinson's diseases. Curr Pharm Des. 2013 Feb 19.PubMed PMID: 23448464.
8. POLAZZI E, MENGONI I, CAPRINI M, PENA-ALTAMIRA E, KURTYS E, MONTI B. Copper-Zinc Superoxide Dismutase (SOD1) Is Released by Microglial Cells and Confers Neuroprotection against 6-OHDA Neurotoxicity. Neurosignals. 2012 May 9. PubMed PMID: 22572742.
9. GIULIANI P, BALLERINI P, CICCARELLI R, BUCCELLA S, ROMANO S, D' ALIMONTE I, POLI A, BERAUDI A, PENA E, JING S, RATHBONE MP, CACIAGLI F, DI IORIO P. Tissue distribution and metabolism of guanosine in rats following intraperitoneal injection. J Biol Regul Homeost Agents. 2012 Jan-Mar;26(1):51-65. PubMed PMID: 22475097.
10.
Main skills and expertise (up to 5)
1. Primary and cell line cell cultures, cell viability and proliferation assays
2. Animal handling and behavioral tests
3. Immunohistochemistry, immunofluorescence
4. Western blotting, immunoprecipitation, 2D-PAGE
5. qRT-PCR, DNA cloning, animal genotyping
Main equipment/facilities available in the participants' lab (up to 5)
1. Cell culture facilities, primary cell culture electroporator
2. Light, confocal and fluorescence microscopes
3. Behavioral test equipment (inhibitory avoidance, fear conditioning, novel object recognition)
4. Western blotting and proteomics facilities (2D-PAGE, Multiplex)
5. qRT-PCR iCycler, ELISA and fluoresce plate readers
Short personal activity proposal for the COST Action CA15135 (max 1000 characters)
Neurosphere cultures will be derived from the hippocampus of adult rats and induced to proliferate according to published protocols. We will then investigate whether the addition of synthesized small molecules increases neurosphere formation/size. To further verify the proliferation ability of these compounds, Ki67, a marker of dividing cells, will be used for staining proliferating cells after treatment. If the number of Ki67+ cells increases, this will indicate a direct effect on proliferation. Next we will evaluate the differentiating ability of these compounds through anti-β-tubulin and anti-microtubule associated protein 2 (MAP-2) immunofluorescence. This will ultimately provide definitive data on which compounds induce differentiation towards the neuronal lineage. Finally, to assess whether these small molecules alter the cell migration pattern from neurospheres, new cell migration will be monitored by live-scanning microscopy upon 24 h treatment with the tested compounds.
Work Group preference: score from 1 (preferred) to 4 (not preferred)
| | |
| --- | --- |
| Work Group of the CA15135 COST Action | Score |
| WG1: Development of new chemical entities | 2 |
| WG2: Selection of biological targets and assessment of biological data | 1 |
| WG3: Development of chemical databases | 3 |
| WG4: Development of Computational methods for multiple ligand design and discovery | 3 |