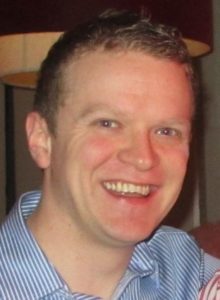 General information
Name: Gary
Surname: Stack
E-mail: gstack@ait.ie
Cell phone number with international prefix: 00353906442546

Country: Ireland
Affiliation: Athlone Institute of Technology
Gender: F □ M x
Year of the PhD title: 2013
Personal web page: http://www.researchgate.net/profile/Gary_Stack3
Previous COST participation: No x Yes □
List of 10 selected publications within last 5 years
1. Stack GD, Walsh JJ. Optimising the delivery of tubulin targeting agents through antibody conjugation. Pharmaceutical Research. 2012; 29(11):2972-84
2. Walsh JJ, Stack GD. Linker technologies and release mechanisms for antibody-drug conjugates.  Optimizing Antibody-Drug Conjugates for Targeted Delivery of Therapeutics. Future Science Book Series: Future Science Ltd; 2015. p. 40-55
3.
4.
5.
6.
7.
8.
9.
10.
Main skills and expertise (up to 5)
1. Organic Synthesis
2. Flash Chromatography
3. NMR Analysis
4. Cell culture
5.
Main equipment/facilities available in the participants' lab (up to 5)
1. GC-MS
2. Access to high-field NMR
3.
4.
5.
Short personal activity proposal for the COST Action CA15135 (max 1000 characters)
The major focus of my PhD research was on the synthesis of novel multi-target drugs. I am very enthusiastic about expanding upon the work that I have carried out in this area and would very much appreciate the opportunity to collaborate with others working on this topic. I am at early stage in my research career and am actively attempting to pursue independent research. I would welcome any opportunity to discuss collaboration with other members of CA15135.
Work Group preference: score from 1 (preferred) to 4 (not preferred)
| | |
| --- | --- |
| Work Group of the CA15135 COST Action | Score |
| WG1: Development of new chemical entities | 1 |
| WG2: Selection of biological targets and assessment of biological data | 2 |
| WG3: Development of chemical databases | 3 |
| WG4: Development of Computational methods for multiple ligand design and discovery | 4 |